EASY DOES IT Quetico Provincial Park August 2008
L-R -- Son2-Jack(experienced camper); Tim(2nd trip); Son1-Jimmy(novice camper); Camp Master-
Pat(over 20 trips); Organizer-Jim(6th trip)
Outfitter –Voyaguer North
Entry Point: Moose Lake 25
……………………………………………………………………………………………………………………………………………………
……………………………………………………………………………………………………………………………………………………
We arrive at Voyaguer North Outfitters and get a room. We do our gear and pack checks and get ready for the trip. Everyone in in high spirits!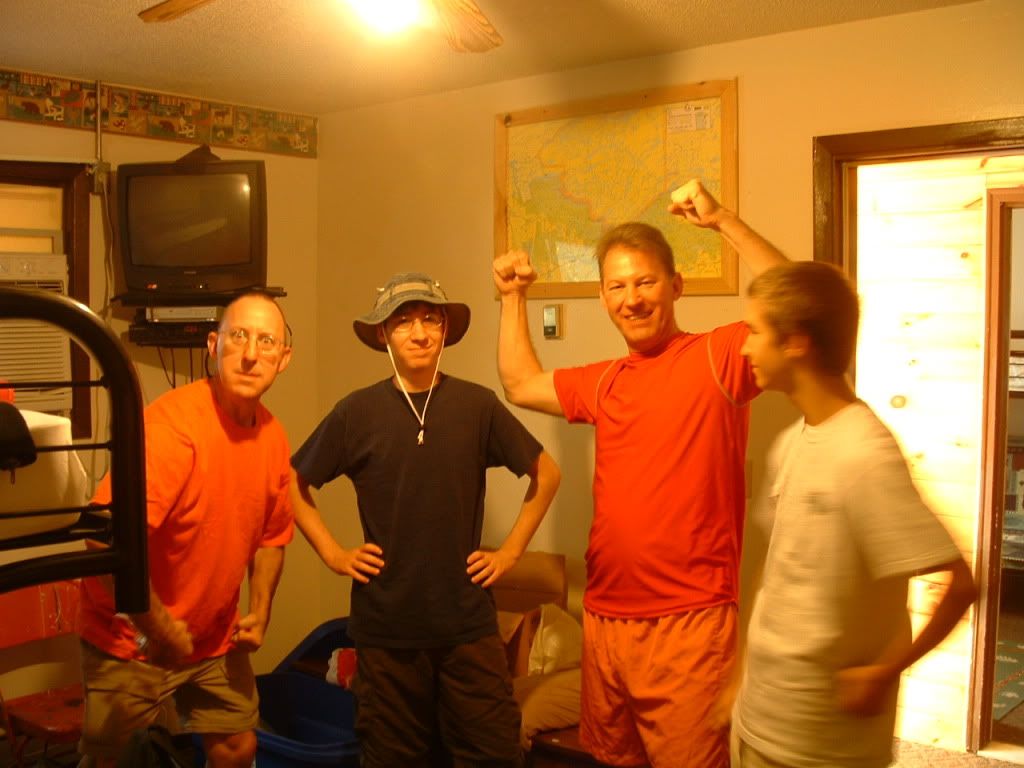 Saturday, August 09, 2008
In at Moose Lake. We take a tow to Prairie Portage. Then

on

into Sunday Lake. We are taking it easy as we are introducing our teenage sons, Jimmy and Jack, to wilderness camping and canoeing. Just as we paddled into Quetico, we saw a beautiful bald eagle soaring overhead. A good omen, we think. Found a little island camp site about half way up the lake. What a great site it turned out to be. We immediately caught two fat bass and had a wonderful dinner. My son, Jimmy, was surprised that fresh fish tasted so different from the frozen stuff we usually get down by Chicago.
Up early. Jimmy catches a walleye using top bait in the little waterway between our island and the mainland. This trip is turning into something special. Weather was perfect for sleeping last night. Everyone is in great spirits. We decide to stay here and fish Sunday Lake. I guess this will be more fishing trip than canoe trip. Jimmy put his photography class to good use. He took the great photo of the morning mist rising off the lake. More fish for breakfast, then we fished over the whole lake. Afternoon we went to the diving rock at the end of the island and all had a great time swimming, diving and just playing in the water. No fish for dinner, but no one is complaining. Another perfect sleeping night.

Got up and had a leisurely breakfast of blueberry pancakes, oatmeal and hot black coffee. We will paddle to Agnes Lake today and see Louisa Falls. Another perfect sunny, 80 degree day! The weather was nothing short of glorious all week. Sunny and warm days, cool, dry nights. The boys were introduced to real portaging today. Needless to say, they were not happy. But, we all survived and when we got to Louisa Falls, the sun was hot and we were all alone. A long dip in the whirlpool and then lunch at the bottom. Boy, I had read about the falls, but I never imagined they were so much fun! We found a big camp site about a mile or so from the falls and settled in for some fishing. The perfect sand beach was a big plus and we all went swimming again just before dinner. The boys went out fishing by themselves and the men stayed in camp and prepared dinner, and set up the bear bag, hammock, etc. A fire, cigars, and whiskey made a fine capper to a great day!

A warm soak in a natural bathtub.

A cold shower feels great on a hot summer day!
Not a good idea.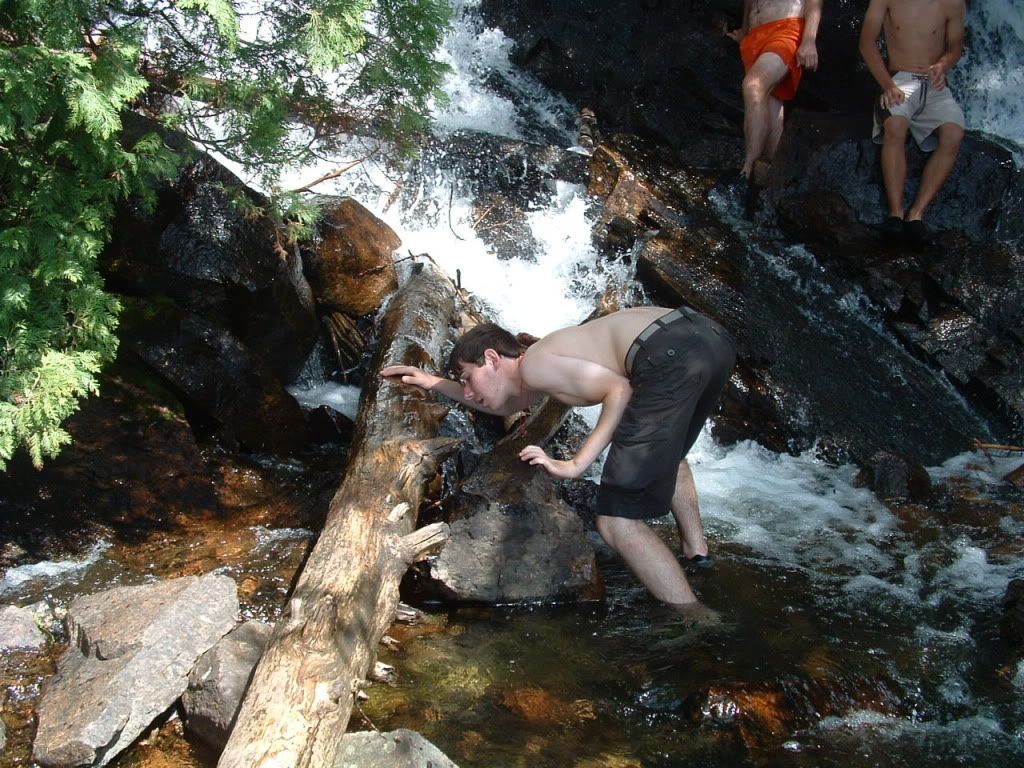 A cool drink from nature's water fountain.
…
We decided to see if we could find the pictographs on the island up the lake a ways. We packed our lunch and fished our way up the lake. Got to the island around mid-day. It started to sprinkle a bit, but never did rain! We couldn't spot the pictographs, but boy, did we have some great blueberries. Again, smiles all around, as we headed back to camp. I took a nap in the hammock while everyone else went out fishing some more. Yes, we had fish for dinner that night and the boys howled at the moon a little bit. The moon was reflected off the lake so beautifully. A silver ribbon of magic. It really took our breath away!
Looking for pictos.
Wednesday, August 13, 2008
Today we decided to fish way up north. We started out mid-morning (warm and sunny, again!) and fished our way up and down Agnes. Everyone caught at least one fish, but nothing was worth keeping. We worked our way down the west shore, and generally took life easy. More swimming at the beach just before dinner refreshes everyone. We cooked up red beans and rice and added some summer sausage. The boys have never tasted anything so good! Now they understand - everything tastes great when you're hungry!
Gone fishin'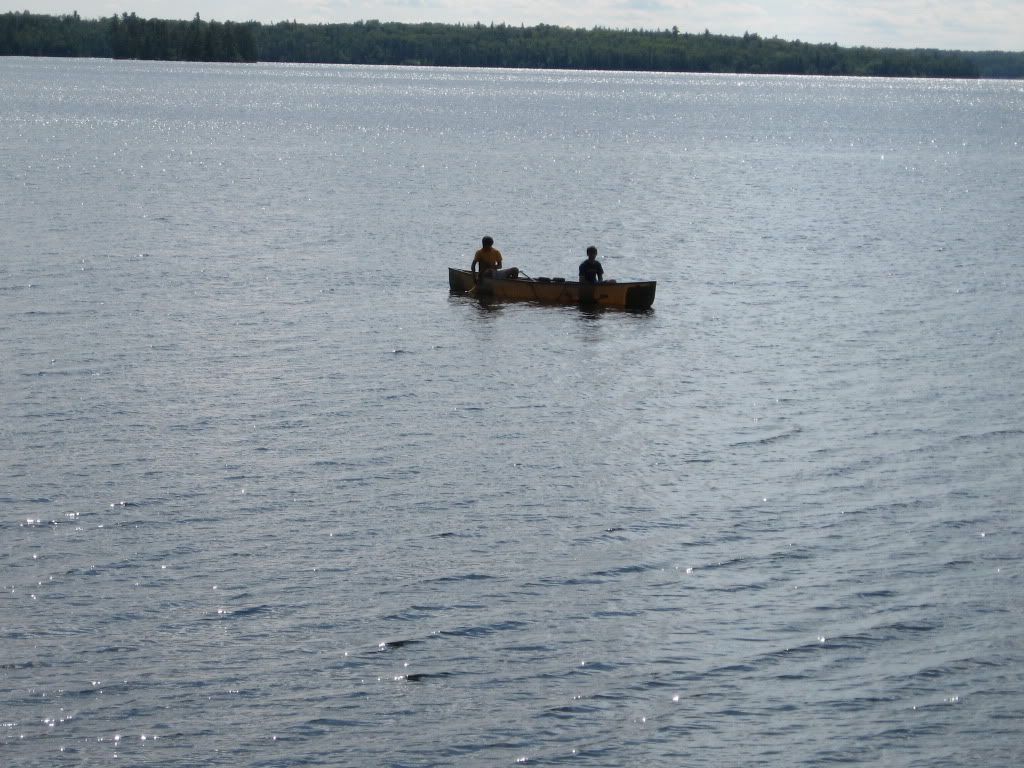 Pumping a couple of gallons of water for dinner.
A neat campsite.
Thursday, August 14, 2008
We will go almost all the way out today. We get up and have a big breakfast and take our time cleaning up the site.(LNT!!) Then we set out for the south end of the lake and the two portages into Sunday Lake. The portages go pretty well, but I'm not as young as I once was (turns out I tore a meniscus on the last portage). So I'm huffing and puffing pretty good by the time we enter Sunday. Once in the water, we make great time. We have to wait for our Camp Master in his single canoe. But we get into Sunday Bay by early afternoon. We set up camp on the island just north of the ranger station about ½ mile. Then we go out into the north shore and fish. WOW! Camp Master Pat was right! Everyone catches more fish, and more different types of fish, than we ever expected. We fish until after the sun is down and then cook in the dark. Not bad when you have so much fish to eat! Catching fish sure helps convince the boys that this canoe camping is pretty special! The perfect weather helped, too! Everyone sleeps soundly on full stomachs the last night out.
Don't talk to me until I finish my COFFEE!!!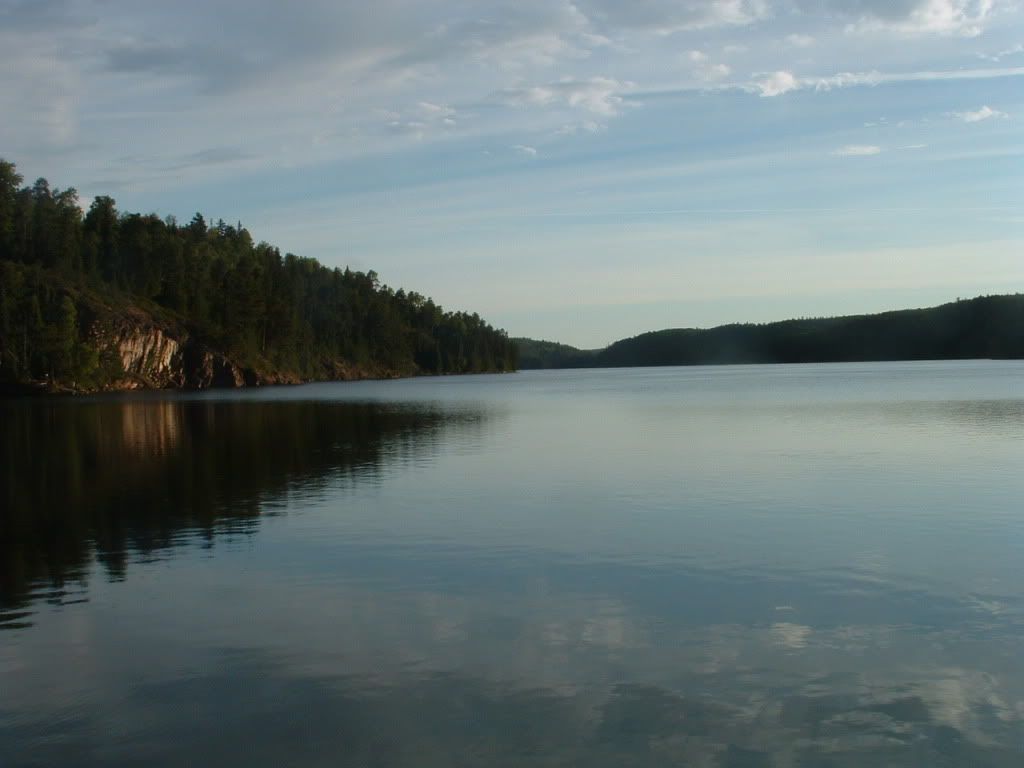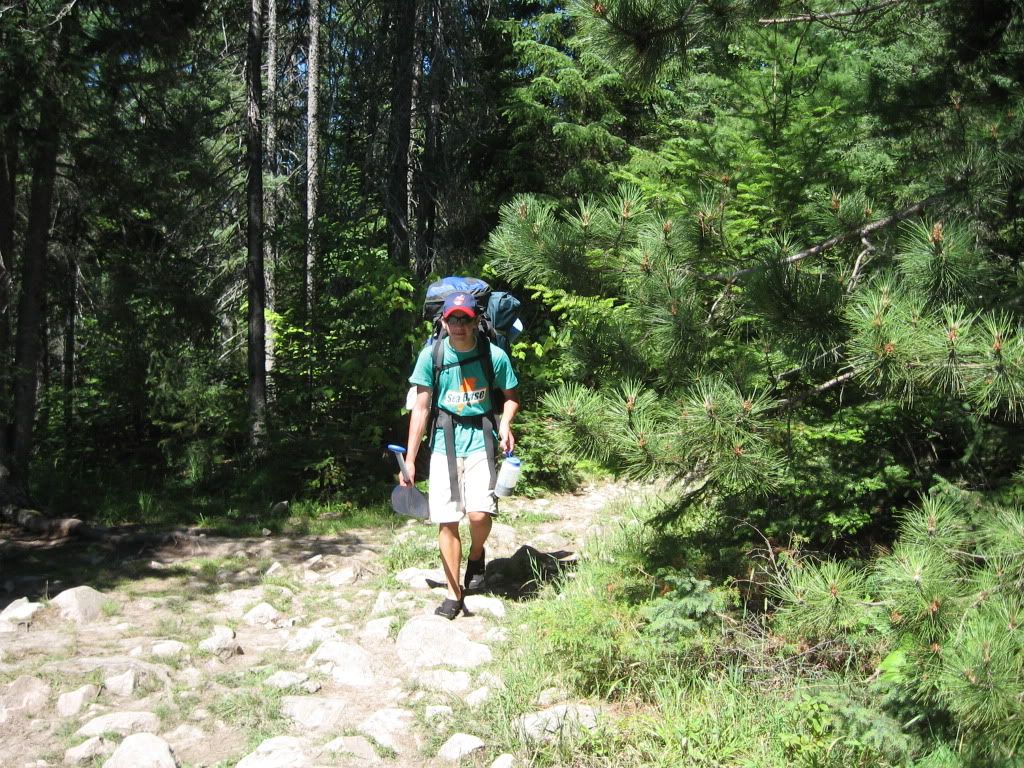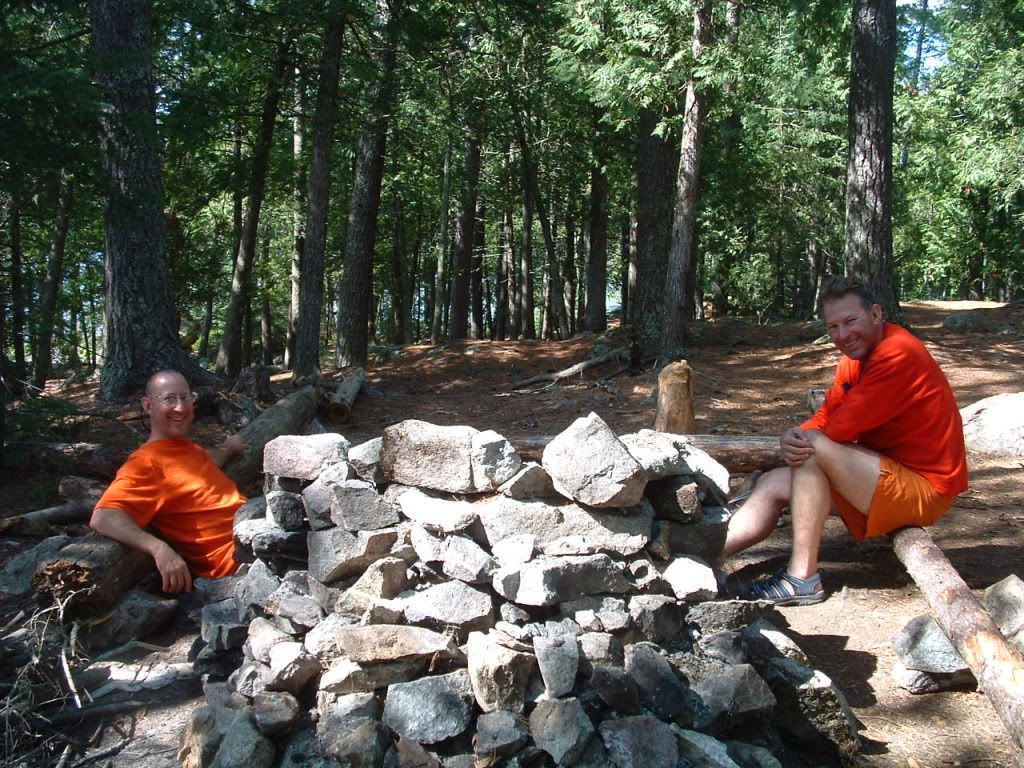 Discussing fishing strategy on Sunday bay.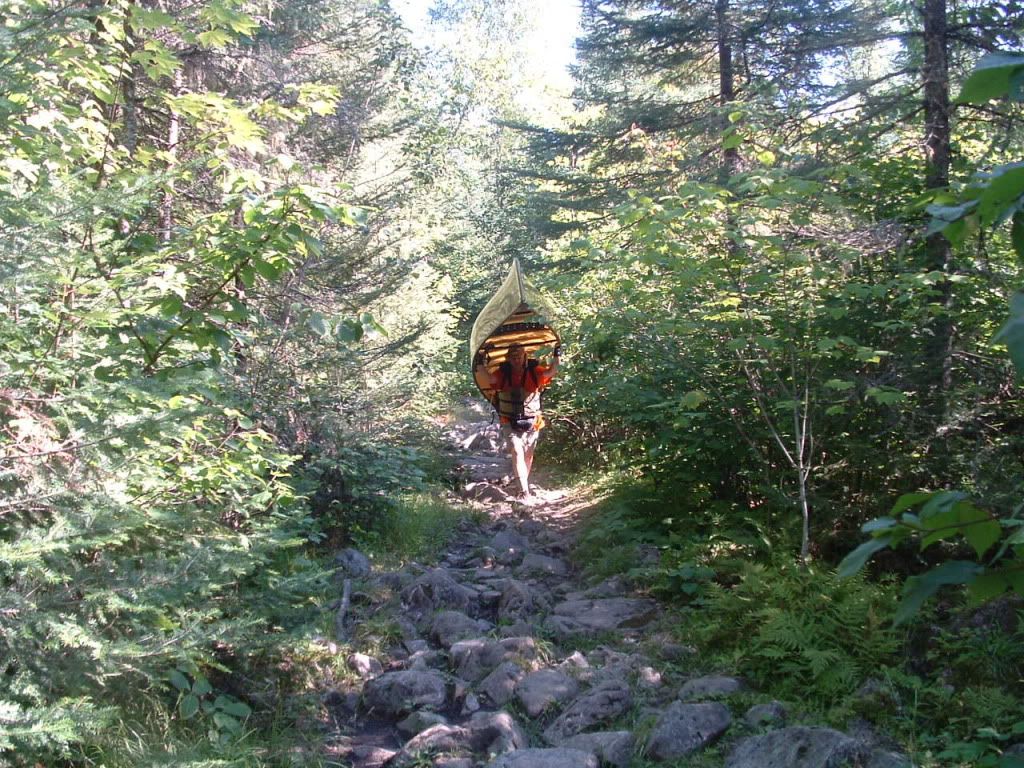 Up late since we don't have far to go. We paddle a short way to the border and then hump the stuff up and over. Some of the guys go into the store and buy souvenirs. We meet a nice couple from California who come every other year. They are in their 60s and are far more fit than the three Dads in our group! After a few minutes we push into Moose, a glorious day! Sunshine and the gentlest breeze. We all feel great and so we do a little racing to see who can reach the pull out first. Anyone for more granola? UGH! We still have about 3 pounds! Once at the dock, we wait for the van. Cold drinks…ahhh. A quick shower and sandwich in town and on the road by 4:30.
I am so happy that everything went so well. I hope the boys decide to come back with their pals over the years. I have an 11 year old boy waiting at home who is just dying to come. Maybe we can be back in 2010!
Team work
A close race to our take out point.
Are we not men?